Fiverr Cash Secrets
Fiverr Cash Secrets

How to Make Money Online Without a Website With No Money Down – A 30 Day Day Online Coaching Program with Sam Choo
"My income is not enough. I need to find a way to earn some extra money".
If this is what you are thinking now, read on because I am going to show you a legitimate way to earn extra income in your spare time.
Imagine what it is like to work at your own time, and earn a few hundreds every month to fund your studies, to have the extras to buy milk for your children, to pay your kid's tuition fees and to pay off the bills?
The economic times are hard. One job is never enough to make ends meet. It is wise to have a 2nd income stream. Here is your opportunity to learn how to make real money.
I don't want to waste your time. If you are looking for a get rich quick program, this is not for you. If you are not prepared to put aside an hour a day to work on your Internet business, this is also not for you.
There is a busy market place with an estimated 10.7 million visitors a day. There are vendors with a 'table' to display their stuff. They sell all sorts of stuff – from products to services to knowledge. They sell their gigs for $5 to $100s.
Some earn hundreds of dollars a month and the best sellers are doing it as a full-time job.
There is such as marketplace online.  It's called Fiverr.
Fiverr.com is a microjob site where anyone can sell almost anything from 5 to over 500 bucks. There are 117 services or products that you can sell.
Here's why you'll love to sell on Fiverr.
It is  fast. It takes only 5 minutes to list your gig and start selling.
It is free to list. No need to pay membership fees or rental fee.
It is a lot easier than any other internet business.
There' no need to create website.
No need to do technical stuff like SEO.
It iss newbie friendly.
Free Hot Traffic in a busy market place. No need to promote your business.
Leverage on your talent/skill. There 119 kinds of services listed on the site.
It is Fun. Sell what you like.
No long working hours. Do at your own time. Do when you are free. Pause when you are busy.
No employees to manage. No boss to answer to. No phone call to answer.
You can do it anonymously. Your boss won't know it.
Can you think of any online business with all the above benefits?
It is the fastest and easiest way for  any aspiring online entrepreneurs to make their first sale. If you are an internet marketing newbie, this is the perfect online business to start with, especially when you don't have a lot of money, you are technically challenged, you don't have list, and you don't a website.


I started selling on Fiverr since Year 2011. I work hard and put up a lot of gigs. After that, it's has been almost passive income. The orders come through my email. I login and attached the files. It is delivered in 5 minutes. Till this day, I am still getting orders every other day, even though I did not do any promotion at all.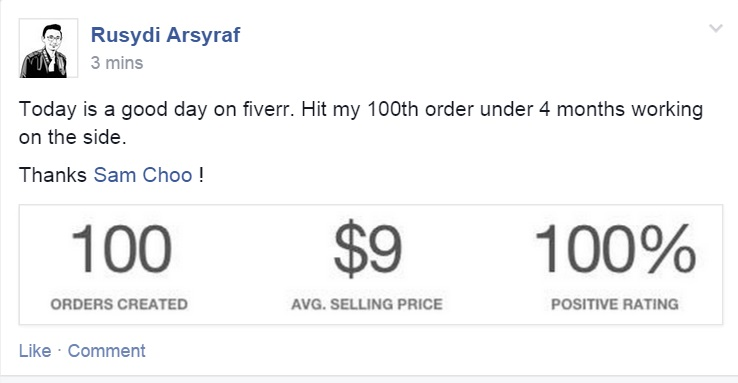 Starting 15th March 2016, I will be running a 30-day online coaching program to teach you how you can make money online from the comfort of your home.  This program is ideal  for complete newbies.
Once you sign up, I will add to you to a secret online forum. I will post the lessons inside the forum.  You'll have permanent access to it so that you can learn at your own pace.
You'll receive 20 lessons. Among others, you'll learn these:
How to create a gig that sell
Identify the profitable gigs
A sure way to double your sales to the same buyer
How to get your first sale fast
How to use Fiverr for lead generation
How to make even more as a buyer
How not to get banned by Fiverr
and more…
I will interact with you every single day for 30 days from 15th March to 15th April. You get to ask me any questions. I will feedback on your gigs.
This is the most comprehensive Fiverr coaching program you can ever find.  Your investment is only SG$97.    For 30 days of coaching, it is a steal because I charge people $100 per hour.
The more people I reveal my secrets to, the more competitors I have. So I cannot promise if I will do this program again or teach at this low price. So don't miss the chance.
Once you had made payment via your paypal or credit card, I will add you to the secret forum immediately.

I see you on the inside.