How to be a Ghostwriter
How to be a Ghostwriter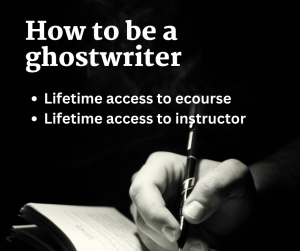 If you write well and you want to make an extra income as a ghostwriter, this message is for you. Ghostwriting is the process of writing content — usually a book — on behalf of someone else.
I am a full-time ghostwriter. So far, I have written 9 books for my clients with three more
coming
up next month.
Do it right, you can earn an extra few thousand dollars every month. You can work anywhere.
I am learning from other gurus through their courses. I am also learning from my personal experiences. As I learn, I document my knowledge inside a secret Facebook group. I want to pass these knowledge and insights to you. I want to give you access to my library of knowledge and to my mind so that you can shortcut your learning and result faster We will deep dive into the whole process of ghostwriting.
* what it is like to be a ghostwriter
* how to build outline for the book
* how to conduct and record an interview
* how to craft draft for client
* how to get the book printed.
* how to network with as a ghostwriter.

You have lifetime access to the FB group. I will continue to add new info to the group. . Once you join me as a member, you can ask me questions anytime. Learn at your own pace. Elsewhere, such a course will cost you at least $300. I want to make it affordable for you. Investment: $97. Message me now for a chat.