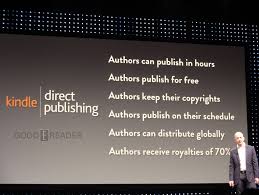 Kindle Publishing Gives You Freedom
Kindle Publishing Gives You Freedom
"People are always going to read books. Kindle is not going anywhere. You don't have a boss or naggy clients when you sell Kindle ebooks. Kindle gives you freedom." ~ Jeremy Williams
People sometime ask me how I make money. My favourite kind of business is where I don't have to knock on doors, make a sales pitch, do public speaking or meet demanding clients. It is the kind where I don't have to exchange time for money. I like passive income – do once and earn many times. I like a business with automation where the system takes care of paperwork and delivery.
I have done all kinds of biz, from hosting, website design, writing, copywriting, SEO, lead gen, etc.
But my favourite is Kindle Publishing. It's the perfect lifestyle for an introvert like myself. Work anywhere, anytime. No boss to nag at me. No MRT jam.  In fact, I have move away from other business and focus 100% on Kindle Publishing. This is my full time job. This is my focus for Year 2015.
What I like about Kindle publishing is that you can outsource most of the work. If you do it right, your book will sell every month.
Some of my friends ask me to teach them how to make money online.
Now is your chance to learn from me and my friend Chrystal Lee LJ. We will guide you until you publish your first book. Once you are in the coaching program, I will reveal to you all my secrets. Those who know me know I don't hold back.
Don't miss this opportunity cos seats are limited. We are keeping the class size to 10 pax max only. I cannot guarantee if we will conduct the class again.
If you want to start the new year, equipped with a new skill to create a 2nd-income, let Chrystal and myself personally coach you.
http://www.chrystallee.com/kindle-passive-income-masterclass