KindleSpy Review
KindleSpy Review
I just bought Kindle Spy, a Chrome Plugin. This is very useful for Kindle authors/publishers.
It is extremely easy to use.  Go to Amazon Kindle store. Select a category or type a keyword. A list of books appear. Click on the icon and it displays the statistics about the result.
For example, suppose I am interested to write a book about Feng Shui.
The result below tells me that Feng Shui is not a popular subject. Only $1K worth of books were sold in one 1 month. It tells me which titles are selling well.  Feng Shui for the  home is more popular than for other usage.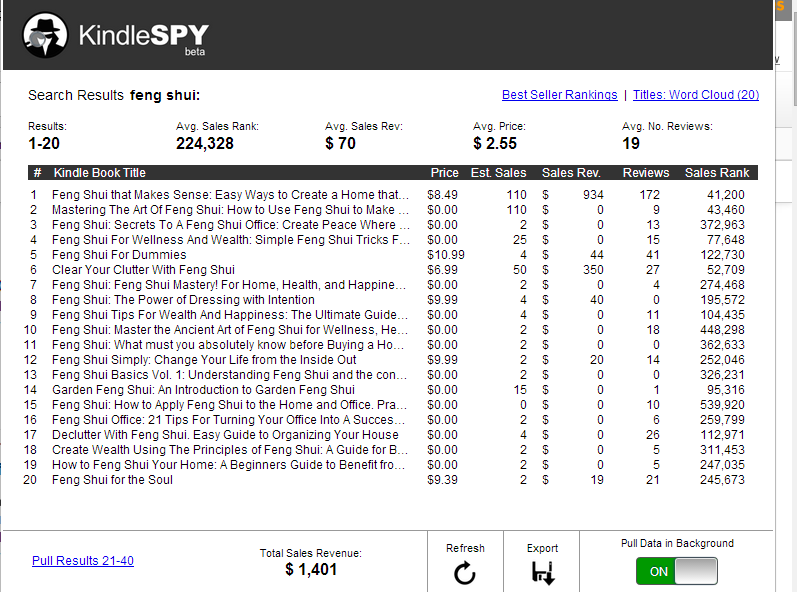 Next I click on the 'Word cloud' and it shows me the popular words to use in the title.  It suggests that Feng Shui for the office and health seems to be popular.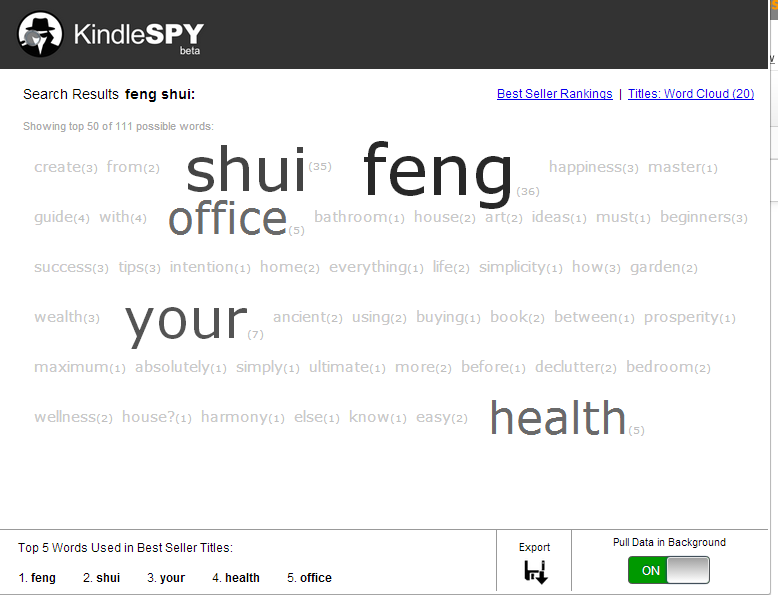 Next, I enter the name of a well known author who has written many books on the subject. I am curious to know which of her books are most saleable.  I discovered only one book is selling well. The rest seems to flop.
Briefly this is the feature of Kindle Spy. Simple to use.
If you try to extract the info manually, it will take you ages. So this software is really a time saver.
Compared to other similar software, this one is really affordable.
Initially I have some problem with this software. I email the owner. The answer was prompt and polite. I resolved the  problem very quick.
With a lifetime membership, you get unlimited version upgrade. I am confident it will get better and better as users request more features.
I see that the benefit of this software is that it tells me whether a topic is profitable or not for existing sellers.  And I can spy on my competitors.
Watch the demo of KindleSpy at  http://jvz5.com/c/12197/111047