My Favourite Video Makers
My Favourite Video Makers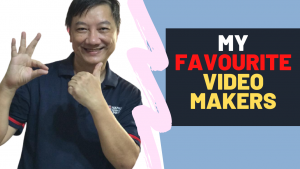 This article is a product review of Lumen5, Canva, Vidnami and Invideo.
If you are looking to create professional looking videos fast even though you are not a trained videographer or video editor, here are my top 4 recommended video creation software: Lumen5, Canva, Vidnami and Invideo.
This kind of video software is also called a video maker, video creation software or a video editor. They are easy to use and they they come with templates. It takes 3 steps to create a video.
Step 1: Select a template
Step 2: Change the photo or video
Step 3: Change the text.
Then publish or export it into a video file.
Disclaimer: My opinion is based on my limited experience, so do not take my review as a gospel truth.
---
Lumen5:
Lumen5 is the easiest software to use. There are only a few menus to explore. You can easily learn it yourself in an hour. It is particularly good for converting a long article to a video. Although the templates are limited, it is good enough if you are happy to put one or two sentences per slide.
Cheapest Plan: US$11 per month, billed yearly.
Website: lumen5.com
---
Canva:
Canva is my preferred alternative to MS PowerPoint for presentation. It is easier to use than Photoshop. Although it is well-known as a graphic design tool, it is also a video presentation tool. It has lots of elements and templates. Creative designers and teachers will love it. If you know how to use PowerPoint, you will love Canva.
Cheapest Plan: US$10.30 per month, billed yearly.
Website: canva.com
---
Vidnami:
If you are a speaker, Vidnami is a good fit because it has a text-to-speech and speech-to-text features which are not found in other software.
The text of a speech is automatically transcribed into the video. Of the four software, Vidnami has the most beautiful captions. Its AI technology is smarter than its competitors. It is able to pick up the most suitable images when it convert the text to video.
However Vidnami is more expensive compared to its competitors, but for its production quality, it is worth the investment. Although it is easy to create a video with Vidnami, I find it hard to edit. The templates are limited but sufficient for users with simple needs.
Cheapest Plan: US$33 per month, billed yearly.
Website: vidnami.com
---
Invideo:
With more 5,000 templates, it has more templates than the competitors. It is very strong in short video ads (15 to 60 seconds duration) with 1,000 templates. Every week, they release new templates, quite unlike the competitors. Their 24/7 hotline response is very prompt. They also have the text to speech feature.
Invideo is revamping its interface which is very intuitive and easy to use.  The new interface will be available by end of May 2021.
Cheapest Plan: US$15 per month, billed yearly.
Website: invideo.com
My affiliate link: https://samchoo.com/invideo
---
Every software has its strength and weakness. Being a 'kiasu' (afraid to lose) person, I use all 4 of the software in my video creation work. Select the most suitable software based on the kind of videos that you produce frequently.
Based on their strength, here's my recommendation:
For long articles, use Lumen5.
For presentation, use Canva.
For talking videos, use Vidnami.
For FB adverts, use inVideo.