Personal Coaching
Personal Coaching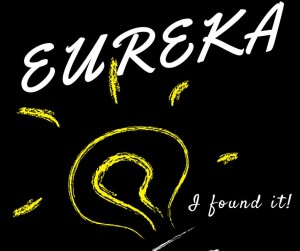 Personal coaching session with Sam Choo
I am an internet marketing coach. I  had coached more than 80 people since late 2014.
Why People Look for Me
They seek help from me for various reasons such as…
* Not sure how to get started as an online entrepreneur
* Confused with too many choices and they are not sure which direction to take
* They need help to connect the dots
* They want to learn how to earn their first $1,000
* They want to know how to promote their businesses
* They are stuck with limiting beliefs and mental blocks
* They want to bounce ideas
* They want to learn some internet marketing subjects
The Eureka Effect
After one session, they left with the Eureka effect (ie the sudden, unexpected realization of the solution to a problem)
They got clarity.
They know which direction to go.
They were able to move past their obstacles.
They discovered their gifts.
They got more ideas on how to make more money
For some, I did more.
I promoted their business.
I passed a 4-figure deal to one of them.
I gave them ideas on how to launch their business.
I connected them with my friends
I have helped these people. Now I want to help more people like you to make a breakthrough in creating an online income.
How Can I Help you as Your Coach?
Clarity. Maybe you are not sure what's the best path to take, given so many options and everybody is pitching you their big promise. You don't know what you don't know.
Blueprint. You need a business blueprint. You need a roadmap to bring you from where you are to where you want to be. Together we identify and work the steps to get you to your destination.
Business Ideas. I am an idea person. This is my gift. I give you the best money-making ideas and recommend the best business model according to your personality, capability, and interest.
Business Connection. I am a connector. I can refer you to the right people who can take your business to the next level.
Business deals. If you are good at what you do, I refer businesses to you.
Fresh eyes. We are too close to our own problems to see the see dirt in our eyes. I will be your pair of fresh eyes, give you my view from a different perspective.  I am paid to give you my honest opinion.  Your friends may not want to hurt you. Your enemies are biased.
Questions. I will ask you questions to make you think and consider all possibilities. I will question your assumptions.
Accountability.  I will be your accountability partner, your alarm clock, your ass kicker.
Stay Focus.  I will get you to focus on what doing the important stuff, the stuff that brings you the maximum ROI. I will keep you on track.
Challenge Your Limiting Belief. Your greatest enemy is your mental blocks and false assumption. Maybe you have not seen what is possible. I am here to show you new evidence to replace your limiting belief.
Discover hidden opportunities.  I help you discover better options than what you know.
Recognition. I am also a life coach. People give up their dream for lack of encouragement. I will encourage you, motivate you, recognise your talent and validate your gift.
Resources.  Besides connecting you with influential friends, I will show you my resources for information, tools, what your competitors are doing, how to raise money, how to leverage on other people.  I am a resourceful person. I know how to make money with no money or little money.  I am resourceful when I don't have my own resource.  If your business is a good fit, I will give you access to my loyal list of fans.
Specialised knowledge.  I have dabbled with various internet marketing business since 2008.  I read many hours a day. I invest in learning from other teachers by attending internet marketing courses every month. One of my students called me a walking encyclopedia.  What do you want to learn? I will give that to you.
For those who don't know me, here's my background.
Who is Sam Choo?
I have attended these training:
* Coaching Formula (by M.T.)
* Certified Life Coaching (by Suria Mohd)
* The Purposeful Business (by Elyse Anne)
* Certified Influential and Inspired Speaker (By Suria Mohd)
* Certificate in Applied Business and Entrepreneurship (CABE) by Suria Mohd
* Master Your Facebook Ads (by Md Shawal)
* Internet Empire Mastery (by Calvin Woon and Patricia Lin)
* Advanced SEO Mastery (by Fabian Lim)
* Conversion Hacking (by Max Koh)
* Infopreneur Bootcamp (by Imran Md Ali, Dave Rogers, Jo Han Mok)
* Certified Google Adwords (by Happy Marketers)
* Website Conversion (coached by Sharon Vaz)
* Kindle Publishing (by Stefan James and by Chrystal Lee)
* Publish A Book and Grow Rich (by Gerry Robert)
* Facebook Marketing (by Marcus Ho)
* Make $1K in 30 Days (by Rachel Rofe)
… and more.
I have done these before:
* Speaking
* Training
* Coaching
* Membership subscription
* Hosting Services
* Website design service
* Website maintenance
* Article writing
* Ghostwriting
* Copywriting
* Personal Coaching
* Online coaching
* Training
* Flip websites
* Sell on Fiverr
* Ebay
* Sell Ebooks
* Book publishing
* SEO service
* Affiliate marketing
* Lead Generation
* Ads Submission
* CPA
* Adsense
I have been known as the Fiverr Guy, the Rain Maker, the Tribe Builder.
I have been doing internet marketing since 2008 full-time. Although I am the family's sole breadwinner , I am financially debt-free. I work few hours a day and live a pretty stress-free laptop lifestyle.   I am saying this not to boast, but to  tell you that I am not a starving artist and that freedom is within reach.
Is this for You?
If you are just starting out or you are not making headway in your online business, and you feel you need someone to talk to. I am here for you.
Feel free to chat with me on Facebook if you have any questions.
If you feel comfortable to go one step further, book a session with me. I stay in the East but I can meet you in town. Of course, you can book as many session as you need. It's totally up to you.  You can have just one session with me and stop there. It's perfectly ok with me.
How Much?
Your investment is only $100 per session (about 2 hours).
I am worth more than that. Do your research and you know the market price for personal coaching costs more than that.  I want to make it affordable enough so that money is not a hindrance for you.
I confident that if you take my advice, you will be able to earn back 10 to 20 times your investment. You'll find your EUREKA ('I found the answer!)
Show Me the Proof
Below are the testimonials from those who had the Eureka sessions with me. You can also read them on this page.
Meanwhile, please free to chat with me now to schedule an appointment. I am just a chat away.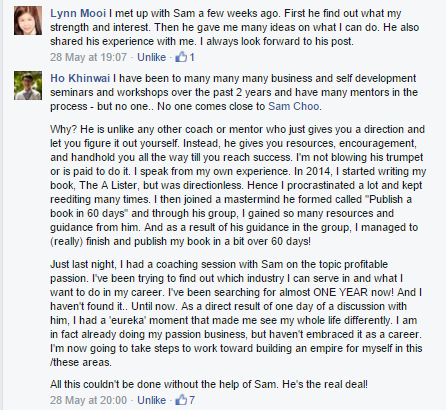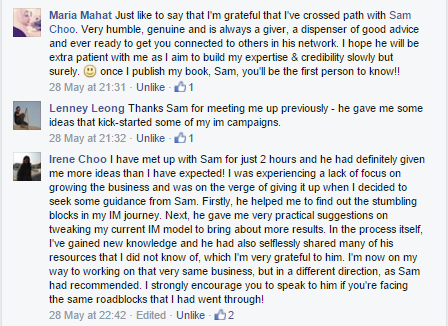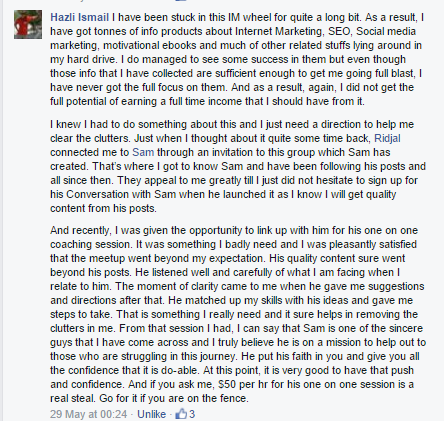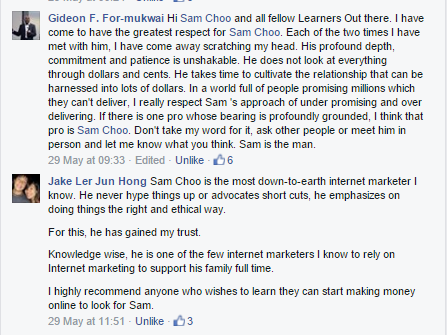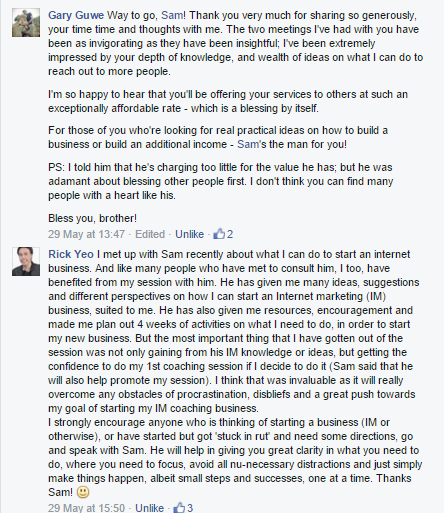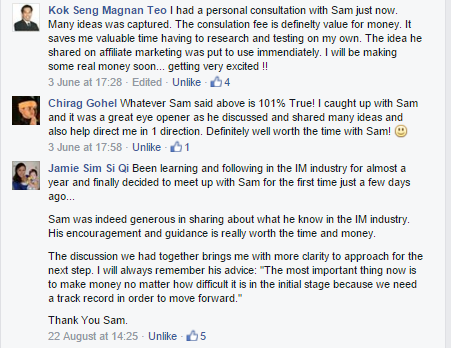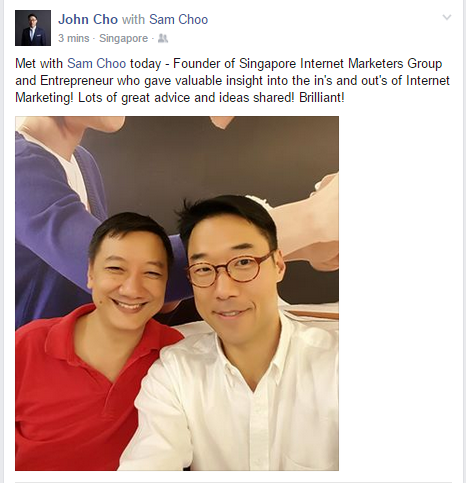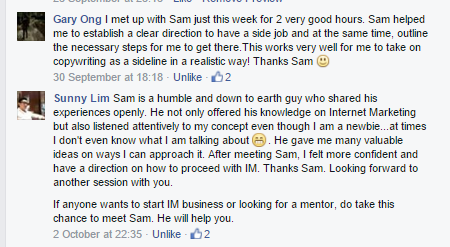 Chat with me now on Facebook to book a coaching session or if you have any questions.  Keep in touch!