The Secret Vault
The Secret Vault

Are you an internet marketer operating on a shoestring budget?  If so, this is for you.
I want to show you where you can learn about internet marketing for FREE, where to get the tools for FREE, and how to operate your online business at almost zero cost (other than your laptop and internet access).
How?
By leveraging on free online resources. There are many free tools, courses, software, and resources that you can use for your work as an online marketer. They are as good as the paid ones.
I believe in earning before spending. Spend only with the money that you had earned. This is my way to a debt-free lifestyle.
When you are starting out in an online business, you can start with very little cost because many of the resources you need are available for free.
Since Year 2006, I have been curating free resources. See screenshot of my knowledge base below).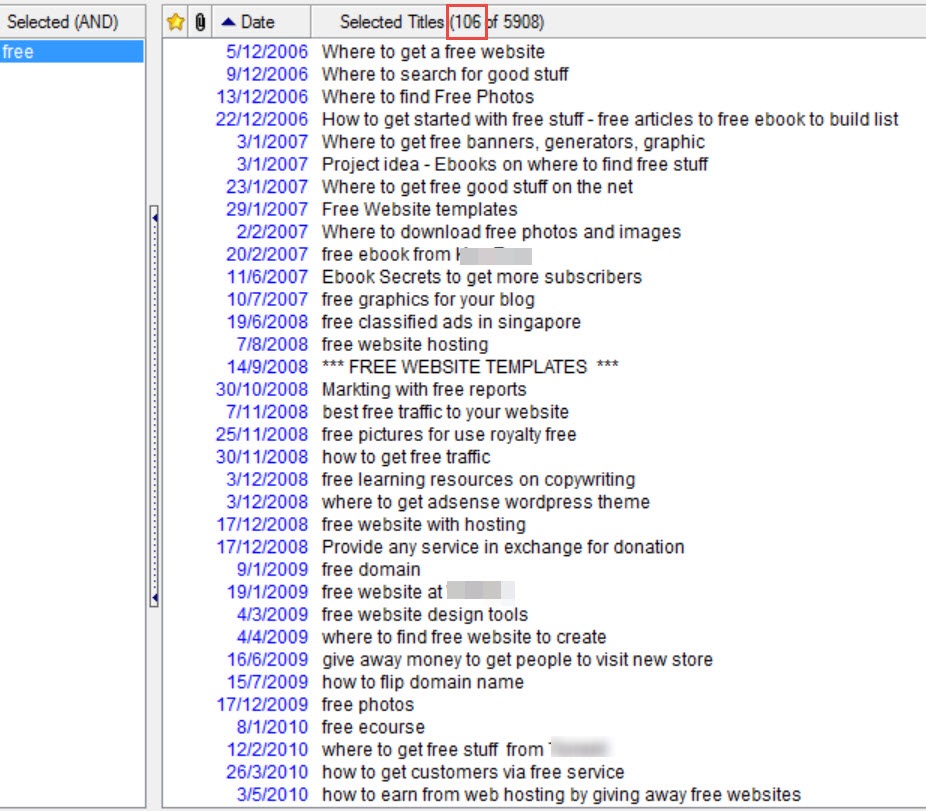 I have become very good at making money online without spending money.
For the first time ever in May this year, I revealed publicly all my best free resources, from the 11 years of curation effort. This includes some of my best-kept secret resources which I had not reveal publicly. It was a full house attendance.
I am running this masterclass again.
I'll save you the time finding it yourself. The value of the resources is worth a lot more than what you are going to pay me.  Although these resources are free, they are worth a lot. Their quality is as good as the paid ones.

INSIDE THIS VAULT
You'll get these:
#1. Report.  More than 15 pages report (in pdf) contains over 50 links to the some of the best free resources on the Internet.  These resources will save you hundreds or thousands of dollars.
#2. Lifetime Membership to a secret Forum.  When there are new free resources, you'll be the first to know it.
These are the free resources I will reveal:
Copywriting Courses
Facebook Ads Course
Google Adwords Course
Pay Per Click Marketing
Google Analytics Course
SEO Course
Affiliate Marketing Course
Social Media Training for Beginners (Pinterest, Snapchat, Facebook, Instagram, Trwitter, Google+, Linkedin and Youtube)
45 eBooks on Self Development
Online School
Internet Marketing Courses
Stock Photos
Video Editor
Graphic Editor
Graphic Design Software
Logo Design
Music
Audio Editor and Recorder
Video
Diary
Grammar Checker
Duplicate Content Checker
Office Software
WordPress Theme
Video Presentation Software
Invoice Generator
How to Sell on Amazon – Amazon FBA Basics for Beginners
Learn How to Code
Fonts
Organizer
Remote Screen Sharing
Presentation Software (better alternative to Powerpoint)
Team Management Software
Thousands of Free Ebooks
How to Sell Your Digital Products
How to Sell Your Events
Where To Find Free Tutorial
Where to Find Answers to the Questions
How to Sell
Where to Post
How I learn from others for Free
How to attend any courses for Free
How to Practise Public Speaking with this Free Tool
How to Sniff Deeper for info
Viral Marketing – How to Craft Contagious Content
And more…
Here's what some of the participants said about the masterclass that I conducted 5 months ago:





Topic: The Secret Vault to Free Resources
Date: 6 Oct  2017 (Fri) 7pm to 10pm
Trainer: Sam Choo
Venue: 16, Arumugam Road, Off Paya Lebar Road,
LTC Building Block D, #05-01,
Singapore 409961
Investment: $70
(Note:  If you are 'The Solopreneur' members, you pay only $23. Go to your secret forum to get the link. To join the 'The Solopreneur' and to enjoy members benefit, click here.)
After you have made payment, I will add you to a secret forum where you will have access to the report and free resources.
You will then know  How to Operate Your Online Business With Almost Zero Cost by Using FREE Resources

I see you on the inside!
Sam Choo