How to write Viral Posts that Get Media Attention
How to write Viral Posts that Get Media Attention


Eng Beng's website at http://happinessnotebook.com/ crashed. The traffic was so heavy.
This is the result of his blog posts.  The people that he interviewed for his website caught the attention of the media.
Eng Beng certainly knows the art of writing viral posts.
Imagine what happens when your post goes viral. You become famous. Fame is good. When you are famous, people will invite you for interviews, to give talks and to appear on the media. Fame is your platform to spread your message to more people and to impact more lives.
Do you want to learn how to write blog posts and social media posts that get you a truckload of free traffic and public attention?
You'll want to learn from a journalist who knows the inside of the media industry, who has personally appear in the news media, and help other to gain public attention through his inspirational blog. He is none other than Eng Beng.
WHO IS ENG BENG
Eng Beng is the founder and writer of HappinessNotebook.com, an inspirational blog that has gone viral and featured in the media. He has appeared in Lianhe Zaobao, Channel 8 News, and Lianhe Wanbao.
His blog is only four-month old. But Eng Beng is able to get close to 100,000 visitors in free web traffic each month by just posting only one article per week. No paid ads or SEO. And his interviewees have been featured in the media including the Straits Times, Channel 8 News, and Yahoo News.
Amazingly, a recent post on his Happiness Notebook Facebook reached almost 1 million people organically via close to 7,000 'shares'. Guess what? The interviewee sold 10,000 copies of his book!
Interestingly, Eng Beng used to score 50 plus for English exams in primary and secondary schools and in JC. Yet he went on to become a journalist and media professional. If he can write, so can you — with some tips and tricks.
In his masterclass, he will share with us:
* Why free viral traffic and media publicity is crucial for your online business
* The blueprint to obtain tens of thousands of free web traffic monthly by just doing one blog/Facebook post per week. Very doable and sustainable for busy people who have a day job.
* What attracts the attention of journalists
* The components of a viral post.
* The 5-step formula/template to write a viral post.
* Three tips on how to make your writing shine — even if you "can't write"
* A step-by-step case study of how I wrote a blog post that went viral with 3,000 'shares' on Facebook, which resulted in a media coverage. You will get a behind the scene look at how I do my work.
* How to promote your blog post on social media to kick start a domino effect
* Tips to improve your chances of appearing on the first page of the newspaper.
HERE'S WHAT OTHERS SAY ABOUT ENG BENG
"I love Eng Beng's emotive and engaging writing style. He interviewed me and wrote a blog post that went viral with 3,000 over 'shares' on Facebook. All organic; no paid ads. After the blog post went viral… my life story appeared on Channel 8 News, which was viewed 273,000 times! He's the person to go to if you want to learn how to get free viral web traffic and media exposure." — Eugene Seah, founder of Superbrand Me Club and MoneyMasteryMindset
"It turned out to be a detailed sharing about how to create viral posts which he has done many times in his own blog. His latest post was shared more than 2,000 times organically. Amazing! He even went through with me the template and structure of his viral posts, how to show and not just tell, how to attract the attention of journalists, etc. Very much a behind-the-scenes peek into how he does his work! Thank you so much for giving me so many actionable steps Eng Beng, you are indeed generous in giving your kind help!" — Lille Low, Senior Associate Director, Century 21 Singapore
"Before coming to Eng Beng's workshop, I had my own idea of writing a blog post. After hearing his examples and seeing how he integrated different elements to create a post, I realised something. What Eng Beng had taught us was not how to write a blog post but a NEWSWORTHY post that has the potential of going viral. Thanks to his generous sharing, including a secret recipe and questions to elicit our stories, I am excited to have a go at writing a viral post!" — Rosalind Ong, Founder of Fun Language Learning
BONUSES
* You will receive a soft copy of his presentation slides
* Online Mentoring and Support. You will be added to a secret forum so that you can ask him questions and receive new updates if any.
When your posts go viral, the publicity will make you famous. Then your life will never be the same again.  How can you put a price on fame?
Get your seat now.
Topic: How to write Viral Posts that Get Media Attention
Speaker: Eng Beng
Date: 26 Oct 2017 (Thurs), 7pm to 10pm
Venue: 16, Arumugam Road, Off Paya Lebar Road, LTC  (Lion) Building Block D, #05-01, Singapore 409961. See sgtrainingroom.com
Investment: $70

Participants of the master class on 11 Aug 2017.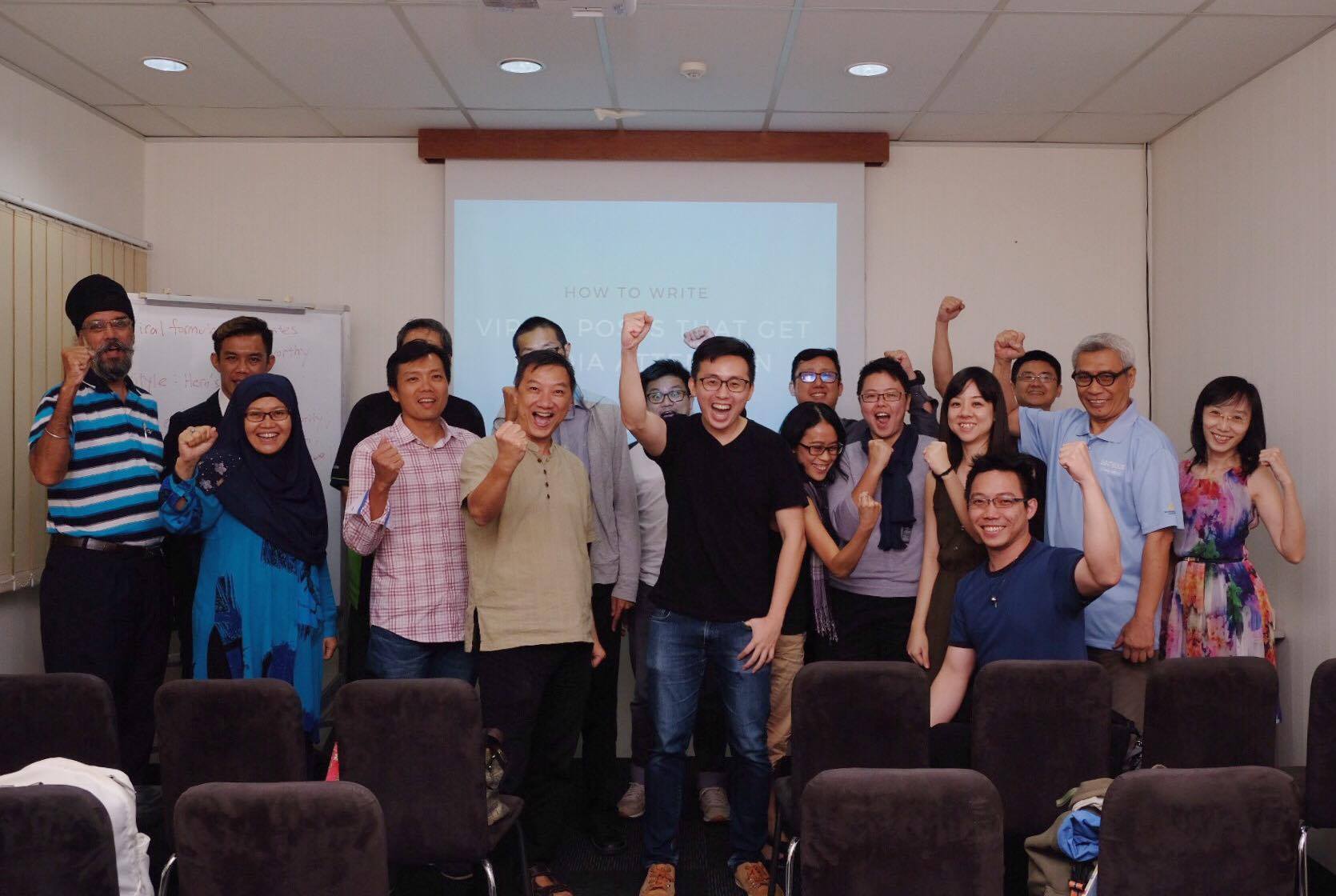 "Eng Beng has the magical ability to make anyone famous with the simple stroke of his own." ~ Eugene Seah