Facebook Group Marketing Secrets
Facebook Group Marketing Secrets

Today is my 58th birthday.  As a teacher in internet marketing, my birthday wish is to create success stories by imparting my knowledge to my students.
It has been a profitable year for me. Last year I made a 6-figure income. Last month, my net profit was $11,907. I would not have achieved it without a Facebook group.
I want to teach you what I do best. I want to teach you a system that yields me the best result. And that is to build and grow an online community of loyal fans through a Facebook group.
The business is simple.  Identify a profitable niche.  Build and grow a Facebook group. Know what they need and give them what they want. You get paid as a facilitator. You do not necessarily have to be an expert to be the founder of a group.
Why do you need a Facebook group?
It's fundamental. You need an audience.  Not just an audience. But a loyal one. As loyal as the followers of Kong Hee.  If you don't have an audience, you have nobody to sell to. Period. But if you have loyal followers,  even if you are stripped away of everything,  your followers will feed you.  This is the power of having a loyal tribe. When they trust you, they will buy anything you sell.
Look at the top internet marketers.  What do they have in common?
They have a big list. They have an audience. Most of them use email lists.
Personally, I prefer to use a FB group as my list. Why?
FB group free.  Email list is not free. You have to pay for the autoresponder.
Facebook promotes your FB group for free.  But not for email list.
If your group is active, members will generate the content. Not for email.  The system almost run by itself.
The interaction and rapport is better on a FB group. Members can respond to your post immediately. Members interact with each other. Email post is one way. You send, they read.  Guess which platform will your users prefer?
There is nothing technically challenging about creating and managing a FB group. It is so simple that anyone can do it.
I have managed dozens of FB groups in the last 6 years. I don't use paid ads. Every time I post an offer, I will get sales 99% of the time. Last month, I created a short simple post in 5 minutes. The post earned me $900 in affiliate commission.  I managed one of the most active internet marketing community in Singapore.
I am going to teach you everything I know about FB group marketing – no holding back. On evening is not enough to teach you everything. So I am going to teach you over 4 sessions.   I won't overload you with too much info at one go. So I am spreading the learning sessions over 4 weeks so that you have time to digest and implement.  I will give you my constructive feedback.  It's a learn-and-do.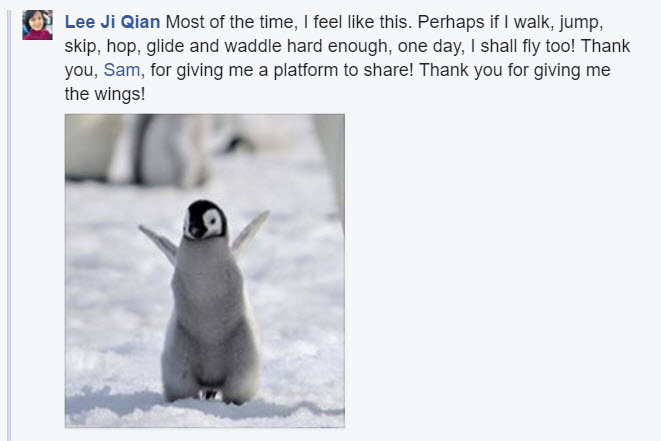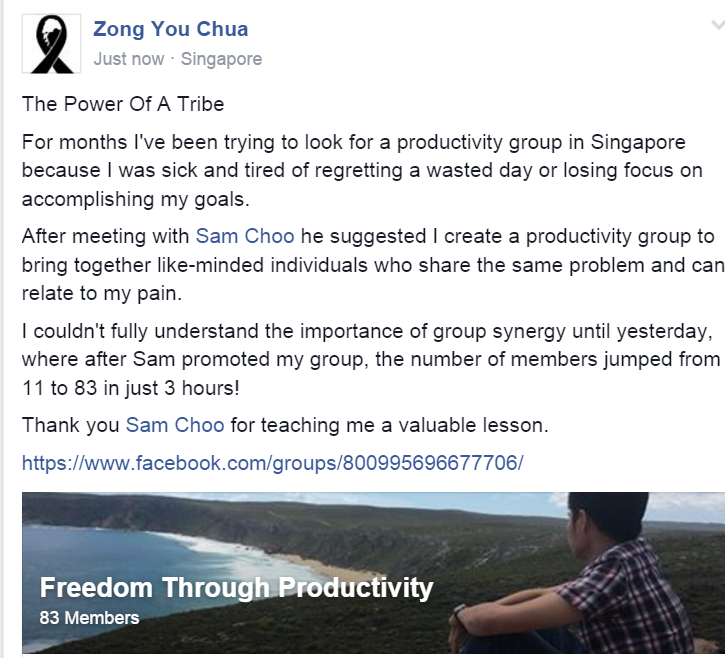 BONUS
You will receive mentorship and support from a lifetime membership in a secret forum. This is where you can ask me any questions, to get feedback from me, and to review updates and new information.   You get to network with your peers, share experience and challenges with like-minded people like you.  There is no additional cost. No upsell.
These are the dates of the live workshops in a classroom:
8th August (Tue)
16th  August (Wed)
23rd August (Wed)
30th Aug (Wed)
The time is from 7pm to 10pm. You attend all the 4 sessions.
Over the 4 weeks, you will learn in the hands-on sessions:
* Benefits of a FB Group
* Uses of a FB Group
* What is your group
* How to Create Your group
* How to screen applicants
* How to manage members
* Where to Find content
* What content to post
* How to write persuasive posts
* How to engage our members
* How to Organising events
* How to leverage on other FB groups
* How to promote your group
* How to Monetize the group.
* Why most groups failed
* The success factors
* and more…
I don't think there's anyone who teaches this topic in Singapore. You know that for a typical 2-day workshop, the price is normally a 4-figure. The price I am charging is well below market price, but it is worth a lot more.
You are learning from someone who knows what he is teaching, not from a textbook lecturer. I run one of the most active online community of internet marketers in Singapore. This is a most competitive niche. I make a 6-figure income last year through FB group marketing.
Imagine what it means for you to acquire the skill to earn 4 to 5 figure a month by serving your community in an FB group.
The investment is $497.
If you still have questions, feel free to message me.   Click on the button below to make it happen.

Photos of  Past Participants