How to Blog for Profits
How to Blog for Profits

Hi, my name is Sam Choo.  I am a blogger, an internet marketing trainer, and coach. I make a 4 to 5-figure monthly income through blogging alone. My client pays me a 4-figure every month to blog for them. My fans pay me a 4-figure every month to read my posts. I blog to promote other people's programs.
If you want to make money online,  one of the most important skill is blogging. Blogging is a way to make money with no money. I am able to make good income even without using paid ads. I work from home.
When you do it right, here's what happen. It goes viral. More people will know about you as the expert in your subject.
One of my students was invited to appear on TV.  Another got her first sale within minutes.  This is the power of blogging.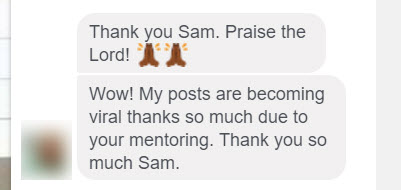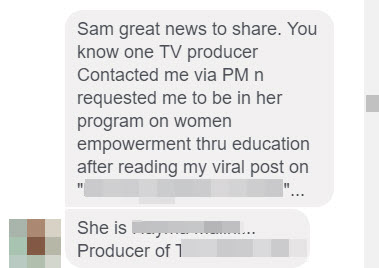 Blogging is the way to brand yourself.  It will be hard for you to make sales if your readers do not know you well enough or do not know your expertise. Content marketing is a way to showcase your expertise and to build a trusted relationship.
Why You Should listen to me. 
I walk the talk and I make real money from blogging. I manage a dozen Facebook groups. I publish 10 posts a day.  One of the posts dated 4th June 2016 had over 500 likes and 126 comments.

I had published over 900 posts in 'Copywriting with Sam', over 1,000 posts in 'Conversation with Sam' plus hundreds of posts in various FB groups.
I observe that one of the reasons why people are not making money can be traced to one symptom: they are not blogging correctly and consistently.  They don't know what to post or how to post.
Here's the good news. I am going to teach you how to blog for profits for 30 days. "Why not learn it in one evening or 2 full-day?" you may ask.  It is not good to overload you with too much information at one go.  I believe that you will learn better if you learn in small bites and apply them step by step.
This online group coaching is for newbies as well as for experienced writers.
Do you need to be good in English to be a blogger?
Not exactly because you can use Grammarly to proofread your grammar.
To benefit from this learning, you must do your homework. I hope you can commit half an hour a day to publish one post a day.  Since you have a lifetime (permanent) access to the lessons in the private forum, you can revisit the lessons and work on it at your own pace.
Here's what you'll learn:
What kind of content to post.
When is the best time to post
How to structure a post that gets you engagement (likes and comments) from your readers.
6  templates for rapid writing
My ninja hack method of writing awesome posts fast
How I post and the psychology behind the methodology. I'll show what is behind the scene.
How you will never run out of content to write about
and more…
Bonus: 
If you staring at the blank paper and you are suffering from writer's block, you'll love this bonus.
I will give you my huge collection of Article templates that will help you write articles in 30-minutes or less.
Each template has a title, an introduction, a body with subheadings and a conclusion.
The templates are in these categories: business, finance, health, family, internet marketing, recreation,  and shopping.
Here's what happen after you sign up for this program
I will add you to a private forum immediately
Every day I will post a lesson and homework inside the private forum.
You do the assignment and I will give you my feedback for improvement.
You have a lifetime (permanent) access to the forum so that you can revise the lessons or ask me questions anytime.
At the end of the 30 days, you will be able to sell yourself and your services without being salesy. You will be able to build KLTD (know, like trust, and desire) so that your readers will want to buy from you.  You'll raise your personal brand and attract people unto you. When you master the art of blogging, you will naturally make more money online.
Title: 'How to Blog for Profits'
Duration: 7 Jan to 6 Feb 2017
Investment: USD$97 (one-time payment)
Remember, the basic skill for an internet marketer is to be able to blog. When you do it right,  then you can make money online. If I can, so can you.