How to Make your clients fall in love with your brand through video storytelling
How to Make your clients fall in love with your brand through video storytelling

Do you want to reach out to more people online?
Then use video.
Proof:
Youtube is the 2nd most visited website in the world, after Google.
Facebook gives your video posts more exposure than other kinds of posts because Facebook wants you to post videos.
Johari will show you one video which achieved 3,477 shares, 2,500 likes and over 158,000 video views.
What is the secret recipe?
The answer is the ability to tell emotionally engaging stories that connect the heart of your audience.
How?
Come for Johari's Video Story Branding workshop.
He will share the step-by-step process on how you too can craft your very own story that will move the heart of your audience.
The story you tell is more important than the product you sell.
This workshop is for you if…
* you are new in business and cracking your head on how to attract more leads
* you tried promoting your products and services on social media with little result
* you paid lots of money for Facebook ads which do not convert to sales
* you have problems gaining trust and credibility as you are just starting out
* you wish for more shares on your social media post
Johari's secret strategy is called…Video Storytelling!
Do You Know That …
– One-third of all online activity is spent watching video
– The average user is exposed to 32.3 videos in a month
– 75% of online video viewers have interacted with an online video ad this month
– 75% of executives watch work related videos on business websites at least once a week
– 36% of online consumers trust video ads
Ok great I know the benefits of using videos for my business but…
what type of videos should I create?
How do I start?
What camera equipment should I use?
Your questions will be answered during the workshop.
WHO IS JOHARI.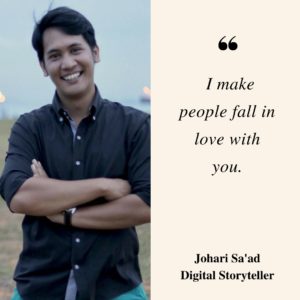 Johari is a digital storyteller.
He spent almost 3 years studying the craft of video marketing
He spent almost $18,000 on workshops both online and offline on video marketing
His hard-earn experience is acquired through countless failures, experiments, the long hours and much money
He had earned his stripe.
But you don't have to learn the hard way because he will extract the BEST of the BEST tips and give it to you.
Find out more about him  at  http://videostorybranding.com/
In the workshop, you will discover the Four Pillars Of Video Storytelling:
* People
* Place
* Plot
* Purpose
By following these 4 Ps of video storytelling techniques, you will have a very powerful tool to create an emotionally engaging video.
At the end of the workshop, you will have your very own unique business story to promote your business.
You will also learn basic videography skills and how to create professional looking video even if you are on a budget.
It is a small room so seats are limited. Sign up now if you want to attract clients using Johari's video marketing formula.
Topic: "How to Make your clients fall in love with your brand through video storytelling"
Speaker: Johari Sa'ad
Date: 18 Aug 2017 (Fri), 7pm to 10pm
Venue: 16, Arumugam Road, Off Paya Lebar Road,
LTC Building Block D, #05-01, Singapore 409961
Investment: $70 only