Youtube Masterclass: An Interview With Adrian Lee
Youtube Masterclass: An Interview With Adrian Lee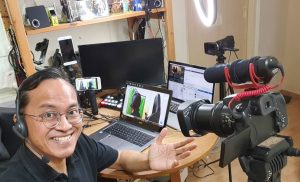 If you ever attend a wealth seminar in Singapore, chances are that you will see a familiar face manning the video cameras at the back of the room.
He is none other than Adrian Lee.
Adrian Lee is a video teacher, a Youtuber, a video creator, and a videographer for live seminars. He has been making money on Youtube.
On 1st April 2021, he launched an online Youtube Masterclass.
Let's find out more about Adrian and his programs in this interview.
Sam:  Adrian, how did the idea of the Youtube Masterclass came about?
Adrian: I have been doing product reviews and tutorials on Youtube for over 10 years. The products are mainly camera related gadgets. It is fun to get paid by Google for doing what I love. When you suggested that I teach a Youtube masterclass, I did not hesitate.
Sam: What's your intention?

Adrian: During this pandemic, many people have lost their jobs. Being a Youtuber is a business model where you don't have to sell to make money. I want to help more people create their own income while at home.
Sam: What are your current projects?

Adrian: I am embarking on a personal challenge to reach 100K subscribers by the end of 2021. I started this challenge 170 days ago. I am also running a 2-day classroom training program on video editing. This program is Skills Future funded.
Sam: What challenge are you facing in your attempt to reach 100K subscribers and how are you dealing with it?
Adrian: It takes patience and consistent work to churn out as many videos as possible. Success is not overnight.
Sam: Who or what inspires you most as a Youtuber?
Adrian: I have seen many simple videos that have garnered millions of views. These videos are doable by ordinary folks. These statistics show that video creation is a profitable skill.
Sam: What motivates to do what you do?
Adrian: I can work at my own pace.
Sam: Do you have a story you wish to share with the readers?
Adrian: I have taught one of my students about Youtube marketing. Within 6 months, he was able to get over 10,000 subscribers.
Sam: What are some of the wrong perception about being a Youtuber?
Adrian: Most people think that it is difficult to create videos. But the truth is that it can be as simple as copy and paste free content.
Sam: What are the benefits of being a Youtuber?
Adrian: The videos that you create today will generate money for you in the future and for years. Your video is an asset that generates passive income.
Sam: What's your final advice for aspiring Youtubers?
Adrian: Anyone can be a Youtuber. It is an easy business to do. Give yourself 6 months to prove yourself.
Sam: Where can we find out more about your Youtube Masterclass.
Adrian: Go to https://samchoo.com/youtubemasterclass