Youtube Masterclass with Adrian Lee and Sam Choo
Youtube Masterclass with Adrian Lee and Sam Choo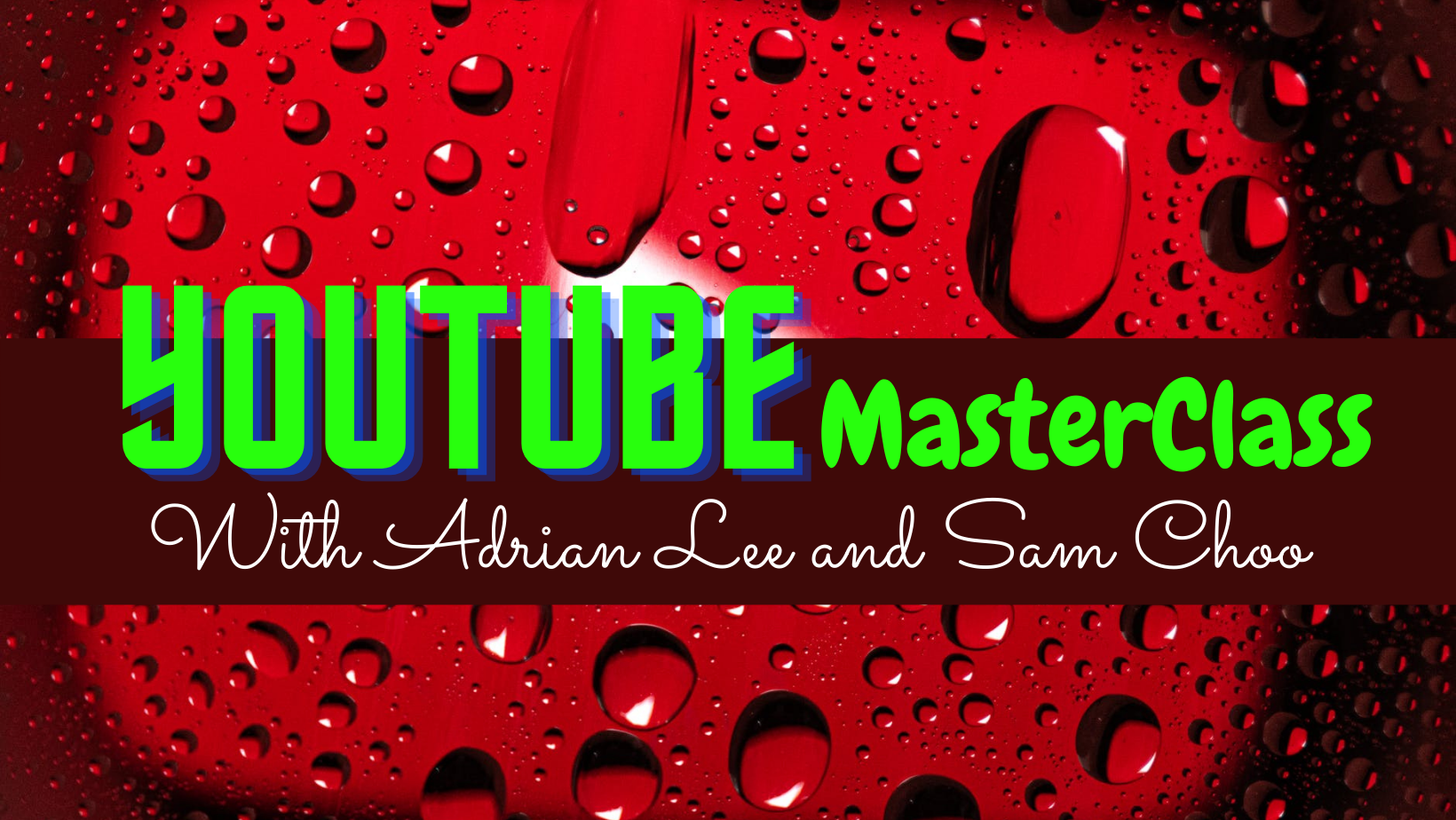 How do you like to get paid for sharing what you love without the pressure of selling?
People like to be entertained, to watch a how-to tutorial, get some tips or a product review.
What is the best way to package your message? People prefer to watch a video. It engages the senses.
If you are someone who like to share your knowledge with the public, your message can change the world. You can make a difference.
But you don't get financially compensated for sharing your knowledge.
Facebook don't pay you to post your videos. Not Linkedin. Not Twitter. Not Instagram.
Without compensation, you can do it sparingly in your free time.
What if you can get paid a full-time income and you get to do more of what you love?
It's a splendid life to get paid for doing what you love and to spread your message.
Youtube will pay you when you are in Youtube Partner program.
With the Covid, many have lost their jobs. The purchasing power is weaker.
You might have find it harder to get sales these days.
Maybe you don't like to sell. Rejection is not fun at all.
There is a way to make money without selling.
How? Through the Youtube Partner Program.
YOUTUBE is the place to be. It's where your audience are hanging out. Youtube is the second most visited site in the world after Google.
Facebook is third but your outreach on Facebook is severely limited. How can you afford to ignore YOUTUBE?
My teacher told me that the videos he made 5 years ago are still making money for him. True passive income.
Create it once and  be seen for many years to come. As you add on more videos, you can experience the compound effect.
YOUTUBE is the gold mountain where the gold rush is happening. It is the land of opportunity and possibility.
But Youtube is ignored by ordinary folks because it's hard to make videos unlike posting photos to social media. NOT anymore. Thanks to AI technology and new innovative software, it is no longer hard to create videos.
"But I don't know how to create video!"
"I am camera shy"
"I don't speak well".
"I don't know what to post"
Do you know there are AI-driven software that can help you create professional looking videos?
You don't have to show your face if you are too shy. You don't have to speak if you think you have a heavy accent.
There are software that can convert a text to voice. There are stock photos and videos.
How do you know what videos to create, how to get viewers, how to be discovered?
I am just starting my journey to the land of Youtube and I am bringing along my trusted sherpa Adrian Lee
Who's Adrian Lee?
He has 26 years experience with video production. One of his videos went viral with 1 million views within 3 months.
His YouTube channel now had over 5 million views and over 21,000 subscribers.
I have attended his classes. He is friendly, approachable and knowledgeable.
Today, I want to invite you to join me in this learning journey and to be guided by Adrian Lee.
Sure you can learn it DIY from books, Udemy or Youtube but when you are stuck, you cannot move forward.  Take the short cut by learning from an expert.  Accelerate your learn. Shorten your journey. Start from the finishing line. Skip the queue.
When you join me in the Masterclass program with Adrian, you have access to more than 60 mini-lessons, with new lessons added every week, and access to Adrian Lee and myself. You know you'll get prompt response from me. You have a community of like-minded to support you and give you constructive feedback.
In this online course, you will discover:
* How to record a video even when you are too shy to show your face or voice.
* How to produce professional looking videos even when you are technical clueless ( by using AI-driven tools)
* How to create one or more Youtube channels.
* 3 ways to make money on Youtube
* How to align with the Youtube algorithm to get ranked and be discovered.
* How to get more views and grow your subscribers.
* …and more strategies
For a one-time investment, you have a lifetime access to the library of learning resources, to a community who is rooting for your success, and all the help you need to prosper on Youtube.
When you implement the lessons, I am confident that you will eventually earn more than this amount every single month.
Launch fee (wef 2 April):$249
Normal fee:$297.
Sign up now to enjoy the pre-launch price.
This is a worthwhile and affordable investment to acquire a profitable life skill that can generate an income. You no longer have to depend on people to give you a job.
If you are thinking of pivoting your business to another source of income stream, creating videos on Youtube is certainly a feasible business model.
You can work from home at your own pace by using a software to convert your text to videos. There is no need to go out to shoot any videos.
You can be anonymous if you choose to. Best of all, there is no need to sell.
Contact Adrian Lee  or Sam Choo
We'll see you inside "Youtube Masterclass with Adrian Lee and Sam Choo"