Create Profitable Online Courses On Udemy
Create Profitable Online Courses On Udemy

How To Create Simple Online Courses And Make Money From Home
Does the thought of sharing your passion with others – and making a real difference in people's lives – excite you?
Do you want to know how you can make money from home by teaching people what you know?
The truth of the matter is….
Each of us has something unique to offer to the world and…
The world wants to pay you to learn them – online!
At Udemy (a worldwide online learning platform), anyone can be the online instructor of tomorrow and start sharing your knowledge with people from all over world through creating your own online course!
Just in case you're wondering… you don't need a professional recording studio to start. And it's perfectly fine if you have zero experience too.
You can start to create simple online courses right where you are, at your own home, and we are going to share with you how!
In this exclusive talk, you will learn how to create a profitable online course from scratch and sell it in Udemy which has a community of over 7 million keen learners!
What You Will Discovver In This Fruitful 2-hour Session:
– What is Udemy and Why Udemy?
– How to Become a Premium Instructor at Udemy
– What Topics Can You Teach at Udemy?
– How to Plan Your Course For Success!
– Things Needed to Create Your First Online Course
– Pricing Strategy to Maximize Profits!
– Marketing Strategy to Get Thousands of Student Signing Up!
– Essential Tools and Resources for Course Instructors
Join us now to learn how you can earn income online through sharing your knowledge in Udemy!
About KC Tan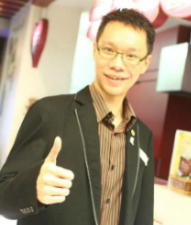 KC Tan (founder of WebSprout Academy) is a certified instructor at Udemy with over 38,000 students enrolled in his four online courses, including his best-selling course, 'Make Your First Real Dollar In ClickBank – With No Website'.
Topic: "Create Profitable Online Courses On Udemy"
Speaker: KC Tan.
Date: 13 Sept 2017 (Wed), 7pm to 10pm
Venue: Lion Building (LTC) D, #05-01, Arumugam Road (next to Macpherson MRT)
Investment: $70