How to Write and Publish Your Book for Fun and Profit
How to Write and Publish Your Book for Fun and Profit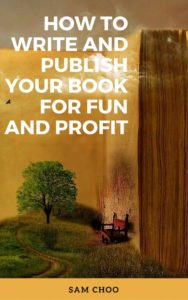 Why Publish a Book? 
One of the most popular wishes in people's bucket list is to write and publish a book. Is this dream also in your bucket list?
There are some reasons why you should consider publishing a book.
Legacy.  A book outlines a person's life.  A book is a way to immortality. Anne Frank died young as a teenager, but her name is remembered by millions all over the world, thanks to her diary.  Do you want your children to remember your wise words? Then write a book.  Don't waste your lifetime of learning and suffering. There are precious lessons that you painfully acquire in the harsh University of Life.
Change the World.  In this Internet age, a book can reach the corners of the world. It can reach to more people globally than ever before. If you have a message for the world, write a book. By God's grace, someday, someone is going to pick up your book and it is going to change the person's life. A prisoner who was once a 2nd most wanted man in Singapore for his crime, read a book and it changed his life. He became a pastor.
Authority.  A book is the new name card. People throw away name cards, but they don't throw a book.  the word 'authority' has the word 'author' in it. People perceive differently when you become an author. They perceive you as a subject expert.  In this competitive business world, a person with a book has an advantage over another who doesn't.  If a journalist want to interview an expert or the media wants to feature an expert,  to be an author is an obvious choice.  It makes business sense, especially when you a consultant, a trainer, a speaker, to be an author.
Profits.  Write once, sell forever.  You'll never run out of stock. People never stop learning and seeking knowledge.  No matter how many books are written on the same subject, it is never enough to quench the thirst for knowledge.  We are in the knowledge economy.  As a seller of knowledge, we will never be short of supplies when we can interview other experts, or research from a vast library of information. You don't have to be an original writer who comes up with new concepts. You'll do well as a digital curator in the sea of information overflow
Traffic.  For marketers, getting traffic is one of the hardest and most costly tasks to do. Thankful through Amazon, the biggest online bookstore in the world, you don't have to look for the crowd. The crowd will look for you.
Lifestyle.  Book publishing afford you a freedom lifestyle. Put a pen name for a romantic book if you don't want your boss or your friends to do what you do for a living.  Make money while you remain publicly anonymous and live a private life. You don't have to deal with customers. You don't have to leave your house to meet clients.  You can live anywhere in the world.  It's a location-independent lifestyle.  Write. Travel. Earn.  You control the pace and live on your own term.    You can scale your business by getting VA and freelance writers to help you
You can scale your business by getting a VA and freelance writers to help you in the operation. There are few businesses like this that you can operate with minimal expenses and generate semi-passive income.
Passion. Maybe it is your passion to express yourself, your ideas, and what you stand for. Writing is a form of therapy. It gives you clarity.  The documentary of life can inspire your readers.  People will be inspired by how you deal with your imperfect and failures, or to avoid the mistakes that you make.  When you have nobody to talk to,  talk to your book.  It strokes your ego to have a book in your name. You make yourself famous.
I hope by now, you find your reasons to publish a book.
Is it difficult to Publish a Book?
It used to be very difficult in the past because only a selected few were deemed good enough for the publisher. But now with self-publishing, anyone can do it easily, quickly, with minimal expenses.
You publish an ebook on Amazon Kindle store, or a physical book on Createspace. Or distribute it to Barnes and Nobles, Apple and Google stores via book distributors such as eBookit.
As a book publisher, you don't even have to write a book. Just engage a ghostwriter or freelance writer to write for you.   Pay someone to format the manuscript, design the book cover and even upload the book online.
What's the Process Like?
Research.  Research on what is a good and profitable topic.  Find an interesting hook to the subject. Write a topic that sells. Once you have decide on the subject, read a lot on the subject.
Writing.  Extract the gold from the tons of information that you had gather. Organise the information so that it is orderly, complete and clear.
Publish. Design the book cover. Do the layout for the manuscript. Proofread. Edit. Format the file. Upload it to the website or marketplace.
Promote it. Promote your book.  Offer free downloads during the free periods. Get more positive reviews.
What You'll Discover:
I am going to share whatever I know about writing and publishing a book, especially the processes. So far I have published 18 books. It can be fun and profitable for you.
If you have always wanted to have a book in your name, but don't know how to go about it,  now is a good time to find out.    Click on the yellow button to sign up for my live masterclass.  I see in class!
Title: "How to Write and Publish Your Book for Fun and Profit"
Speaker:  Sam Choo
Date: 29 June 2017 (Thurs), 7pm to 10pm
Investment: $50
Venue:  16, Arumugam Road, Off Paya Lebar Road,
LTC Building Block D, #05-01, Singapore 409961